It's heartbreaking to read, but it is true.
Founded in 1976, one of Lebanon's most prominent NGOs, performing social services for the welfare of Lebanese kids with disability, Sesobel is giving it one final push before closing its doors by the end of this month – perhaps for good – after struggling dearly with financial conditions.
In a statement published by the NGO on June 7, a series of drastic changes confirmed an ongoing crisis within its walls, and the result of years of hard work and calls for support and help fading into ashes.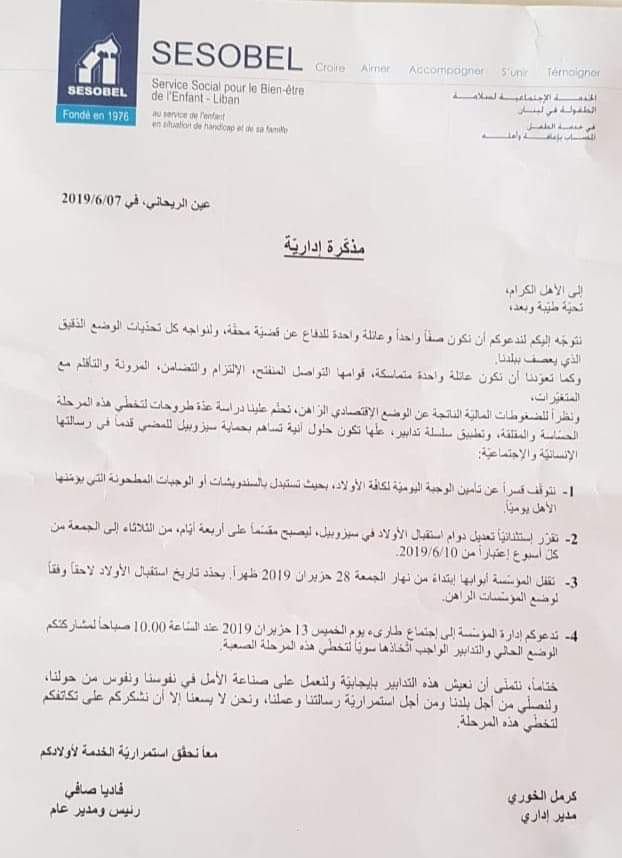 The points mentioned included the following:
1- Stopping food provisions for the disabled children under its wings, asking families to ensure the meals instead, on a daily basis.
2- Starting June 10, children will be admitted for 4 days per week only, from Tuesday till Friday.
3- A tentative closure of the NGO's doors starting June 28, until the financial crisis is resolved.
4- An urgent meeting with the families and the public explaining the situation on Thursday, June 13 at 10AM.
Since the notice was issued, "virtual" support started flooding Sesobel, with no concrete decision taken so far, including tweets by the former minister of social affairs Pierre Bou Assi, asking his compatriot and current minister Richard Kouyoumjian, to immediately look into this crisis and take the necessary decisions.
Will Sesobel survive? I hope so, I really do.