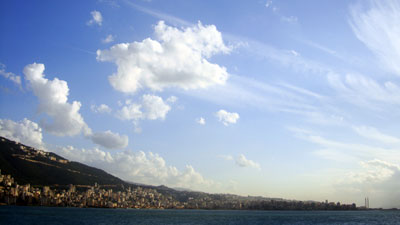 I took a trip to Lebanon this past weekend and people… it was AMAZING! Lebanon is seriously booming… there was a zillion and one events and it felt depressing that I couldn't go to all! It's like taking a kid to a candy store and asking them to choose just ONE kind of candy. Anyways, that's not the purpose of this post. I want to post about the airport (which I still refuse to call Rafic Harriri International Airport).
I arrived to Beirut on Wednesday night. Along with my plane, there were 2 other planes that arrived around the same time so it wasn't busy. Passing through passport control was quite quick, so I was pleased. I got to baggage claim and to my surprise there weren't any trolleys! I searched the entire baggage claim area and could not find trolleys. I asked one of the employees and he told me to check on the sides but that most probably they weren't any left since there's lots of incoming planes. I looked around and only saw that only passengers from one of the arrived planes were collecting their baggage.
What traffic?!
How can an airport that's expecting over 2 million tourists in the next 2 months not have enough trolleys for more than 1 incoming plane?
I ended up paying someone to drag my bags for me which made me feel terrible! I don't enjoy the fact of having someone dragging my 25+ kg bags around… especially since he was an old man.
While leaving last night, I stopped at Cafematik for a snack and to watch the Spain vs. Paraguay game. Unfortunately, they did not have the channel that airs the game. I then went to buy a wifi card so I can get online. The guy told me wifi connection has not been working at the airport for the past week.
Seriously?
I don't mean to sound like a spoilt brat but I do not consider trolleys or wifi access at an airport, as busy as the Beirut Airport, to be optional items to add.