Two weeks ago while in Lebanon I stayed at a guesthouse called BEYt. They've been open for nearly a year now and I found out about the place by chance on my last trip there while visiting a small bookshop (Play BEY which belongs to them) and overhearing the owner talk about it. The guesthouse was located on top of the bookshop on the main Mar Mikhael street and when I got a tour of the place I knew I would be staying there on my next trip, which is what I ended up doing.
As I mentioned above, BEYt is located on the very popular Mar Mikhael street. It's on the first floor of a traditional Lebanese building with high ceilings, wooden shutters and beautiful floor tiles. They only have four rooms available which are:
Master Bedroom (90$ for 1 person, 110$ for 2, 130$ for 3)
Private bedroom with its own en-suite bathroom
1 queen-size bed & 1 single bed
Private bedroom (75$ for 1 person, 95$ for double occupancy)
Private bedroom with its dedicated bathroom across the corridor
1 queen-size bed
Twin Bedroom (60$ for 1 person, 80$ for double occupancy)
Private bedroom with shared bathroom across the corridor
2 single beds (1.20 meters)
Corner Bedroom (50$ for 1 person, 70$ for double occupancy)
Private bedroom with shared bathroom
2 single beds (1.10 meters)
Those are the prices as of this post.
I ended up taking the "Master Bedroom" and found the room fairly spacious with a pretty large bathroom area thats nearly as big as the room itself. The whole guesthouse is fitted with vintage furniture and various vintage electronics like record players, TVs and cameras. It's a beautiful space and all the furniture was handpicked by the owner. The biggest seller for me though was the location, being situated right on Mar Mikhael street meant I could walk to my favorite pubs and then clumsily stumble back at the end of the night. For those of you who know Lebanon, BEYt is located 2 minutes away walking from pubs like Radio Beirut, Internazionale, The Train Station and The Junkyard. Walk a minute longer and you're at Bar Tartine, SUD and The Sandwich Shop. I can't really imagine a better location to be staying at in Beirut. Because there are no pubs below or right across the street from BEYt the place was actually pretty quiet especially the room I stayed in which didn't overlook the main road. BEYt also had WiFi and it was a pretty reasonable speed compared to Beirut standards.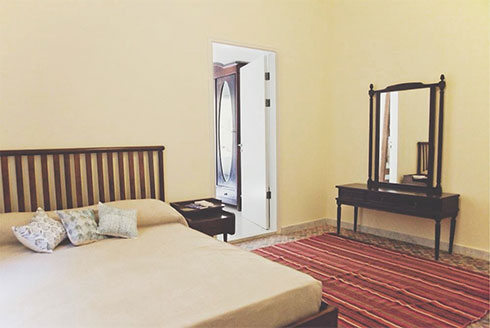 With all the positives I did have a number of issues though. When we first arrived at the guesthouse we were told that they needed our rooms for 2 hours because they were installing new vintage lights in our rooms. Nice but why couldn't they have done that before we arrived or after we left? The first thing I wanted to do was unpack and head out. Another day I walked into my room and noticed they had removed the window shutters and a guy was standing outside my window working on them while looking into my room. That made me feel really uneasy since I was just sitting there on my computer with a guy looking in from my window. Again it wasn't anything urgent that needed fixing so they should have done it before or after we left. I called the owner and told him how weird that was and he told me the guy just needed 10 more minutes. I had to wait until he was done so I could go and shower which annoyed me since I don't like other people managing my personal time. The next morning I woke up to find the guy was back at my window, he had removed the shutters and was working on them again. It was really annoying and an invasion of my personal space.
Other issues I faced, the original room description which I listed above stated my room would have two beds but when I got there I found only one. It didn't turn out to be an issue for me but it would have for someone wanting the second bed. Finally, the last issue I had was with the AC. We were told that we should shutoff the AC when we leave our rooms. I hate doing that especially when the AC isn't really powerful like the ones they had installed. I usually come back to the room to sleep and don't want to come back to a hot stuffy room and wait an hour till it cools. Luckily we managed to keep it on the whole time without any issues.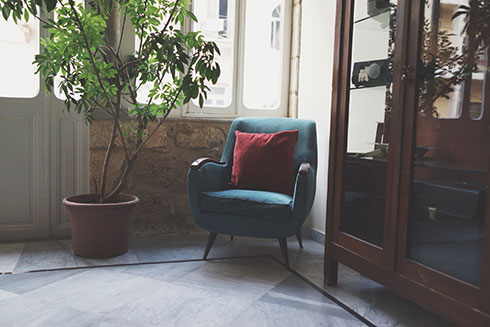 There were a few more things that bothered me like the smell of the cooking every morning or the really rough and hard towels. But all the issues were relatively minor and nothing really took away from the whole experience except for the guy with my shutters. I thought the price of my room was pretty fair and the fact they have rooms starting at $50 is ridiculous. It's all about the location and that's why I'd stay there again with all the issues I had. For more information on BEYt, check out their website [Here]
Another similar place I would recommend staying at is the Hayete Bed & Breakfast which I've previously written about [Here]
Note: Picture of the room taken from the BEYt website
Posted by Mark