Varouj is an incredible Armenian restaurant located in a tight backstreet of Bourj Hammoud in Lebanon. The place is tiny on the inside with only 4 tables and the restaurant is run by a father and son, the son cooks while the father takes care of the guests. Anyone who's watched the Seinfeld episode with the soup Nazi will feel right at home in Varouj because the father is Lebanon's version of the soup Nazi.
What makes Varouj unique other than the really good food is the character of the father. We were five people having lunch and we were ordering the cold appetizers when the father decided we had enough appetizers and walked away. He wouldn't let us order any more. Then when he felt it was time he came to us and asked us what hot dishes we wanted and while we were ordering he again told us that he thought we had enough and walked off. We wanted frogs for example but he refused telling us we already had enough dishes. Then later he even decided to cancel one of our other dishes. So we ordered frogs again and again but he kept telling us we didn't need it. The table behind us called the father and told him they wanted some soujouk and makanek (kinds of sausages) and he told them not now later. Its crazy. He also wouldn't remove a dish from the table unless it was wiped clean.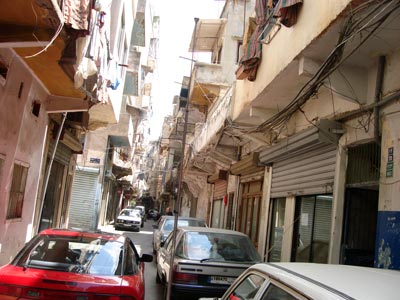 The food was delicious, we ordered: hommos, moutabal, fattoush, loubyeh, batata harra, labneh, tongue, spleen, kibeh neyeh, sheep balls, little birds, chicken liver, chicken wings, basterma, soujouk and makanek. All the dishes were the best I have ever tasted.
The way everything is priced is also interesting. Basically nothing is priced and there is no menu. You go in, you order what you want and in the end he will tell you how much you need to pay and you don't even get a receipt. Our bill came out exactly 100$ but according to my friend if we had ordered less or more the bill would have still come out the same. If you are planning a trip to Lebanon this is a place you need to try if you want a taste of local cuisine. The best way to find the place is to ask a taxi driver in Bourj Hammoud to take you or give the father a call on 03-882933
——————————
Note: This was a repost from my other blog.